Mafalda Bolognese Recipe
PREP TIME: 15 mins / COOK TIME: 2hr 30 mins / SERVES: 4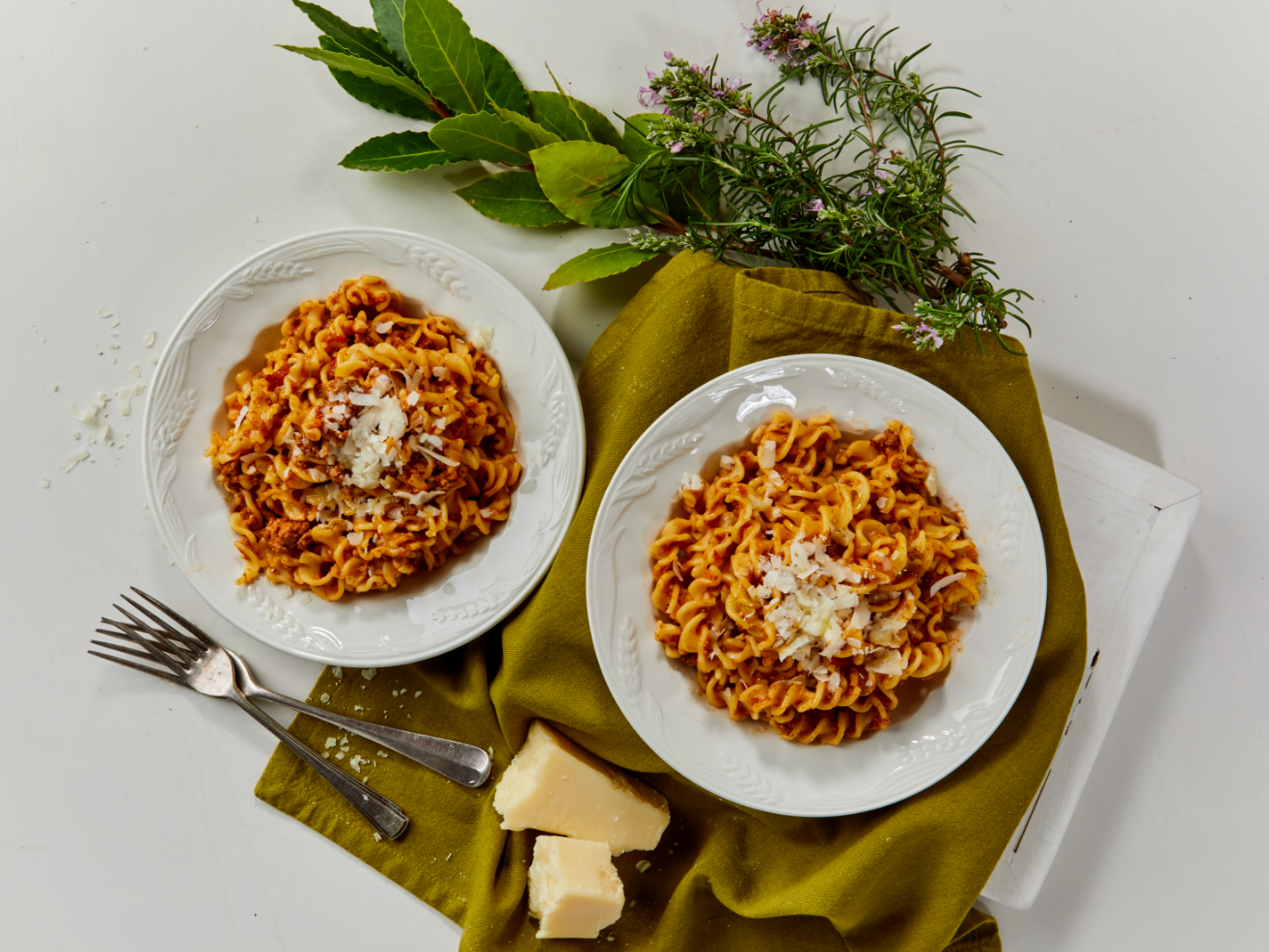 INGREDIENTS
1x 700 gr Mutti Passata 
2x 400 gr tins Mutti cherry Tomatoes 
1 tsp Mutti Double Concentrate Tomato Paste
1/2 Cup Monini Classico Olive oil 
125ml red wine (or beef / vegetable stock)
2 large onions, finely chopped
1 medium carrots, trimmed and finely chopped
1 celery sticks, finely chopped
2 garlic cloves finely chopped
1 classic bouquet garni (rosemary, parsley stalk, thyme, bay leaves) 
Tsp dried oregano
350 gr beef mince (better with fat)
650 gr pork mince (better with fat)
INSTRUCTIONS
1. Put large heavy bottomed pot with a lid on medium heat and the oil
2. Add the onion, carrot and celery and cook on medium-low heat for 20 minutes until soft, stirring regularly.

3. Add the garlic and cook for another 5 minutes. 
4. Increase the heat to medium and add the meat, stirring frequently, allowing it to brown all over for about 5 minutes. 
5. Turn up the heat to medium-high and add wine. Allow that to evaporate then add the Passata, tomato paste, and cherry tomatoes
6. Add the Bouquet Garni and oregano and When it starts to simmer, reduce the heat to low and cover.
7. Simmer for at least 1.5 hours (up to 3-4 hours), stirring occasionally, until you have a rich and thick sauce. Adding salt and pepper to taste.  
8. Serve on top of your favourite pasta, with grated parmesan cheese. Store the sauce in a ceramic container in the fridge for up to a week or freeze for later use.   
Tips
You can add parmesan rind when the sauce is simmering for added umami